Why Florida Should Better Protect Inmates From COVID-19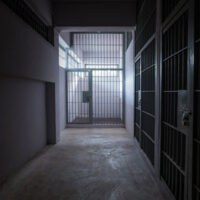 A female prison inmate at Coleman Federal Correctional Complex in South Florida died from COVID-19 on Monday at just 36 years of age. She had asked for "compassionate release" about a month earlier, citing long standing health conditions that could lead to severe complications if she were to catch COVID-19. She was a non-violent offender who had been sentenced to 46 months, and had two young children.
An inmate with only one lung in the Bay Correctional Facility in Panama City has asked for compassionate release after being diagnosed with COVID-19. He is serving 15 years for drug trafficking.
In the federal prison system alone, over 100 inmates have died from COVID-19 so far, over 2,000 are documented as being currently infected, and over 8,000 are documented as having recovered from the virus.
Florida's overcrowded prisons are prone to become COVID-19 "hotspots"
Because prisoners often share cells or rooms, and must be escorted certain places by guards, complete social distancing in prisons is nearly impossible. When the virus shows up in a correctional facility, especially in facilities known to be crowded such as those in Florida, it spreads like wildfire. And the staff in these facilities still travel between the facility and the general public, meaning a virus that spreads in a prison will make its way to the public outside.
The executive director of Florida Cares, a non-profit inmate advocacy group, has written to Governor DeSantis to ask for the early release of certain prisoners, specifically low-level, nonviolent offenders, and prisoners with fewer than six months left to serve.
The chair of the Florida Senate Criminal and Civil Justice Appropriations Committee has also supported releasing certain prisoners because of the virus. He adds that prisoners can still be monitored or supervised upon release, or placed on house arrest.
Other elected officials, including the governor, consider releasing inmates early as a measure that would be inherently dangerous to society. However, releasing inmates convicted of non-violent offenses, who have little time left to serve, and especially those who are elderly or those with underlying health conditions that could lead to fatal complications of COVID-19, may be more helpful than dangerous.
This is because releasing some inmates not only keeps them safe from catching the coronavirus and by extension, COVID-19, but it reduces overcrowding in prisons such that it may be possible to implement better social distancing measures, keeping inmates safer during the pandemic as well.
Inmates deserve to be protected
No matter what crimes an inmate has committed to land him or her behind bars, prison systems have a duty to keep them safe and healthy.
Florida has the third largest prison population in the country, but spends little on that population compared to other states. Not only do overcrowding and lack of funding make it hard to rehabilitate criminals, but it makes it impossible to control the spread of the coronavirus in such an environment.
The 36-year old female inmate from Coleman who died from the virus was an inmate who deserved to be protected. Her mother stated the inmate knew she had to do her time, but "she didn't receive a death sentence." No inmate should die from a preventable illness behind bars.
Reducing the spread in prisons keeps the public safer, too
The more the virus spreads in prison, the more likely it is that a staff member will catch it and carry it with them outside of the prison. Furthermore, if a prisoner gets very sick with COVID-19, they must be transferred to a hospital, bringing them into contact with the public. As the rate of infection rises in prisons, it is inevitable that some inmates will have to be moved at the very least, raising the likelihood the virus will spread in the area around the correctional facility.
Some prisons in Florida that have become "hotspots" for the virus have implemented measures such as required or optional mask-wearing, frequent temperature checks, and increased testing of asymptomatic inmates. One way to effectively limit the spread is to reduce crowding in prisons so that inmates are able to sufficiently distance from one another. Releasing offenders with non-violent records and little time left to serve, as well as elderly inmates who are vulnerable to the virus, may be a good place to start.
Contact a Federal Criminal Defense Attorney in South Florida 
If you are facing federal criminal charges or are facing prison time, contact a Fort Lauderdale federal crime attorney at the office of Bruce L. Udolf, P.A. today. Call 954-309-0438 or fill out the online form to schedule a consultation. We look forward to discussing your case with you.
Resources:
americanbar.org/groups/criminal_justice/publications/criminal_justice_section_archive/crimjust_standards_treatmentprisoners/#23-6.1
palmbeachpost.com/opinion/20200624/coronavirus-florida-editorial-if-any-place-needs-help-with-covid-19-itrsquos-our-jails-and-prisons
wusfnews.wusf.usf.edu/post/surge-florida-inmate-covid-19-cases-spurs-calls-help
theledger.com/story/opinion/editorials/2020/06/26/another-viewpoint-floridarsquos-prisons-are-neglected-covid-19-hotspots/112588560/
miamiherald.com/article244718922.html