How Does a Grand Jury Hearing Work in Florida?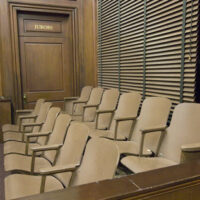 If you are being brought before a grand jury, it means that you are facing federal criminal charges. This hearing involves grand jury members listening to testimony and evidence in order to decide on whether or not to hand down an indictment. An indictment is what starts a federal felony offense case. You may not even know why you are being called before a grand jury. You might be called as a witness, or you may be the target of the investment.
You should not go before the grand jury without legal assistance. You need to speak with a Florida federal criminal defense attorney first. An attorney may be able to help you determine the nature of the grand jury hearing and what your potential role is.
Once you are in the grand jury room, you cannot rely on the advice of counsel. An attorney can prepare you beforehand and prep you before you walk in. This may help enable you to be able to stop before answering a question and walk outside to confer with your attorney. You will only have the limited ability to refuse to answer questions, so preparing beforehand is very important.
Frequently Asked Questions About Grand Jury Hearings
Grand jury hearings can be terrifying if it's your first time dealing with one. Understandably, people have a lot of questions on how grand juries work. Here are some of the most common questions we get from clients.
Is a Grand Jury hearing public?
Unlike most other court proceedings, everything in a grand jury is private and done in secret. The announcement of an indictment is public. Those involved in the hearing are prohibited from discussing the details of a grand jury hearing.
Who is Eligible to Serve as a Grand Juror?
Grand jurors are United States citizens and will be legal residents of Florida. They must be 18 years of age or older and have an identification card or driver's license. Without the proper ID, someone can still register their desire to be a juror by executing an affidavit.
A clerk of the circuit court will prepare a list, and jurors will be selected at random. The process of selecting jurors is mostly handled by county commissioners, while some counties have a special constituted jury commission.
What is a Petit Jury? How Does it Differ from a Grand Jury?
A Petit jury has either six or twelve members whereas a grand jury is made up of no less than 15 and no more than 21 members. These juries have completely different functions and purposes. Grand juries don't try a case and determine guilt or innocence. A petit jury will try a case and render a verdict on someone's guilt or innocence. Grand juries typically don't hear both sides of a case.
Contact a Florida Federal Crimes Attorney
If you have been charged with a federal crime or you are being called before the grand jury, let a skilled attorney help prepare you. Contact the Fort Lauderdale federal crimes attorneys at Bruce L. Udolf, P.A. today to schedule an initial consultation.