Are There Legal Consequences to Waiving Extradition?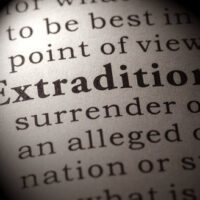 The term extradition refers to removing someone to a different location because that particular country or state has legal jurisdiction over whatever criminal matter is being pursued. The defendant is in a different place than where the arrest warrant was issued and where charges are being or have been filed. In order to get the defendant back to face these charges, they must be extradited. It's understandable that being arrested abroad can be terrifying, especially if you are facing serious federal charges.
If you or a loved one have been charged with a federal crime and are being extradited back to Florida from another country or state, it's important to speak with a skilled Florida federal criminal defense attorney right away.
Will You Definitely Be Extradited?
When the federal government charges you with a crime and you are in a country that has an extradition treaty with the United States, there is a good chance that you will be returned to the U.S. There are even situations where countries that don't have extradition treaties may agree to send someone back. This typically happens when a country is on good political terms with the U.S.
The decision to proceed with extradition differs in every case. It's a political decision and will not necessarily be handled the same in every case.
Is there a Reason to Fight or Waive Extradition?
Depending on your personal situation, there may be reasons you want to fight extradition versus waving it and returning to the U.S. If you have relatives in the country you currently are in, it will be easier for you to see your relatives in your current location. In addition, you may feel the conditions of your confinement are better where you are.
However, there are also plenty of reasons why you might want to waive extradition and return. If you return early on, you can start fighting the charges, or your Florida federal criminal defense attorney might be able to negotiate a better deal. In many cases, cooperating from the start can be the best option, especially in situations where the charges are serious. The government is far less likely to work with someone who remains abroad and tries to fight it.
Deciding whether or not to waive or fight extradition will depend on the specifics of your case and which country is involved. You will want competent local counsel in the country you're in as well as an experienced U.S. attorney.
Why You Need to Hire a Florida Federal Crimes Attorney
Don't think you only need a local extradition attorney in the country where you are. It's crucial to have a skilled attorney who knows U.S. law and understands the American justice system. A Florida federal crimes attorney can help you develop a legal strategy while you are still abroad. It's important that you start building your defense right away, even before you come back.
A local attorney will also be able to see the whole picture. Foreign extradition attorneys may be able to answer questions on local issues, but they are going to be of little help with the actual case itself. If you have questions on extradition, contact a Fort Lauderdale federal crime attorney at the office of Bruce L. Udolf, P.A. today to schedule an initial consultation.
https://www.bruceudolf.com/how-does-a-grand-jury-hearing-work-in-florida/