What to Know About Federal Firearms Charges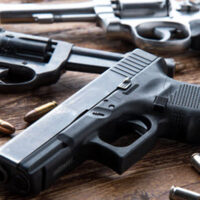 The U.S. Constitution allows you the right to "keep and bear arms," however, this is not an absolute right to keep just any weapon and carry it in whatever manner you choose. Also, convicted felons cannot be in possession of a weapon. Firearms offenses are taken seriously, and you could be facing significant penalties, including prison time.
Under federal law, a firearm is any weapon that includes a starter gun that is capable of expelling a projectile by an explosive action; the receiver or frame of any such weapon; and any firearm muffler or silencer.
If you have been charged with a federal weapons offense in Florida, you must contact a Florida federal weapons charge attorney right away.
Federal Criminal Gun Laws
The Gun Control Act of 1968 addresses several actions that could land you in prison for federal weapons charges. Under 18 U.S.C. §922, anyone other than a licensed manufacturer or dealer is prohibited from engaging in the business of dealing, importing, or manufacturing firearms or ammunition. 18 U.S.C. §924 prohibits someone from using a firearm in furtherance of crimes involving drug trafficking or violence.
Someone who is a convicted felon cannot be in possession of a firearm under 18 U.S.C. §922. Also, this section prohibits specific other categories of people from having a weapon in their possession. These categories are:
Someone who is an unlawful user of or is addicted to a controlled substance;
Someone who is a fugitive from justice;
Someone who is under a court order that restrains them from stalking, harassing, or threatening their partner or a child of their intimate party;
Someone who is an illegal alien;
Someone who is a former U.S. citizen who renounced their citizenship;
Someone convicted of a domestic violence charge, even if it's a misdemeanor;
Someone who has been committed to a mental institution;
Someone who is a former member of the U.S. Armed Forces who was discharged under dishonorable conditions; or
Someone who is a nonimmigrant admitted to the U.S. under a visa.
Common Types of Federal Weapon Cases
There is a wide range of weapons charges that fall under federal law. Some of the most common types of cases involve charges for:
Unlawful possession of a firearm;
Trafficking firearms, like smuggling weapons;
Any federal crime that involves an illegal use of a firearm will be considered a violent crime; and
The fraudulent action of illegally obtaining a weapons permit.
Federal Sentencing
Sentencing for weapons charges can be complex. If there are enhancements, it could affect the potential sentence. No matter what the charge is, a federal firearms sentence should be taken very seriously. If you believe you are under investigation for a federal weapons offense, you need to meet with an attorney right away.
Contact a Florida Federal Firearms Attorney
If you need assistance with defending yourself against a federal firearms charge, contact a Fort Lauderdale federal crime attorney at Bruce L. Udolf, P.A. today to schedule an initial consultation. We focus on federal criminal defense and can help prepare the best defense possible.
https://www.bruceudolf.com/tips-for-choosing-the-right-florida-federal-criminal-defense-attorney/