FCPA Enforcement Activity In Early 2018: Part 2
The first quarter of 2018 was relatively slow in terms of enforcement of the Foreign Corrupt Practices Act, with the announcement of only three relatively low-value corporate enforcement actions, as discussed in the previous installment of this article. However, the quarter was above average in terms of FCPA investigations closed without enforcement by the U.S. Department of Justice and U.S. Securities and Exchange Commission.
Specifically, we have counted nine such investigations, involving seven companies, all closed without further action between Jan. 1 and April 1, as set forth in the chart below. Tracking such investigations is necessarily imperfect — companies may elect to never disclose either the initiation or closure of an FCPA investigation. However, available numbers can provide valuable insights into the DOJ's and SEC's activities and current enforcement posture.
Nine investigations closed without enforcement in a quarter is unusually high, compared to three or four such closures without enforcement that we have counted for each quarter since 2008. This increase has at least a few plausible explanations.
One likely factor is that the DOJ and SEC are continuing to investigate potential FCPA violations, but have become more selective in the actions they choose to pursue — deciding against enforcement, for example, in cases in which they deem a company's cooperation and remediation efforts to have been satisfactory.
Indeed, this approach specifically underlies the DOJ's current enforcement posture. The November 2017 announcement of the DOJ's FCPA corporate enforcement policy, which continued the DOJ's prior pilot program, noted that the policy established a "presumption that the company will receive a declination," absent aggravating circumstances, when the company voluntary self-discloses, cooperates in any subsequent investigation and properly remediates, all as carefully defined by the DOJ.
Notably, however, none of the nine investigations closed during the first quarter of 2018 were official declinations announced under the new FCPA corporate enforcement policy, suggesting that additional factors explaining the uptick in enforcement actions closed without enforcement may be at play. To date, the only true "declination" under the policy has been for the data services company Dun & Bradstreet Corp., which was not prosecuted by the DOJ for its voluntary self-disclosure, but did agree to pay the SEC a $9 million in the second quarter of 2018 — April — for misconduct arising out of the same facts.
It is also possible that this trend could be tied to the growth of corporate compliance programs. In recent years, companies of all sizes, in all industries and in many countries have invested significant resources into new, best-in-class compliance programs. If these compliance programs are operating effectively (both deterring and detecting misconduct), they should naturally lead over time to a decrease in FCPA violations, and therefore a decrease in FCPA enforcement actions.
Enhanced compliance programs, together with disclosure incentives and cooperation, are a goal that both agencies support, and may reward in specific circumstances. It is difficult, however, to determine whether this connection is real, given the lack of complete public data regarding agency decisions.
Indeed, given the vagaries of any individual investigation, this quarter's statistics likely are, in part, the result of natural fluctuations in FCPA enforcement from quarter to quarter and from year to year. As a historical example, a relatively slow first and second quarter of 2015 gave way to a relatively active third quarter of that year, followed by a slow fourth quarter of 2015, followed by a blockbuster first quarter of 2016 — almost certainly due more to the timing of the then-ongoing investigations than to any larger trend.
Supporting this explanation, it is worth noting that Panasonic Corp. and its subsidiary Panasonic Avionics Corp. announced a combined $280 million settlement with both the DOJ and the SEC, settling alleged violations of the anti-bribery, books-and-records and internal-accounting-controls provisions of the FCPA in April 2018 — which, if it had occurred a month earlier, could have changed the first quarter's statistics significantly.
Below are some specifics on the investigations closed without enforcement action, in the first quarter of 2018:
We are also aware of another investigation completed by the SEC without further action in the first quarter of 2018, although we cannot report on any details from this investigation.
Notably, two of the companies listed above — Cobalt International Energy and Teradata — first disclosed their investigations in the early months of 2017, making them perhaps the first two FCPA investigations to have been launched and concluded entirely under the current administration.
Investigations Initiated During the First Quarter of 2018
Another useful data point for assessing the enforcement climate is the number of FCPA investigations launched during a quarter. From publicly available information such as press reports and corporate SEC filings, we have been able to identify only three new investigations launched this quarter, which is somewhat below average.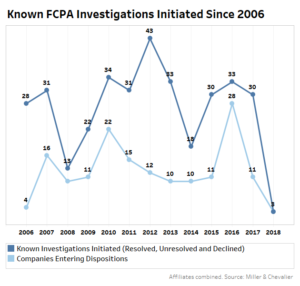 While this below-average number can be a useful statistic, it is important to remember that the number of known investigations initiated is not an exact predictor of the number of future resolved enforcement actions, because a single investigation can result in multiple enforcement actions — or end without enforcement entirely.
Moreover, there are likely additional investigations initiated each quarter of which we are not yet aware, because the government agencies or companies involved have chosen to not publicly disclose them. Public companies sometimes wait months, or even years, to disclose the existence of an investigation in their securities filings, with some choosing never to do so, and nonissuer companies may never disclose the existence of an investigation. Accordingly, the numbers in the chart above are likely to rise, even for past years.
Continuing FCPA Risk
Even if the statistics that we are tracking ultimately show a slowdown in FCPA enforcement under the current administration, it should be remembered that FCPA enforcement risk remains as a significant fact for companies operating abroad. A future administration may return to a more assertive enforcement posture and, under the applicable statute of limitations, companies and individuals may still face liability for their actions for up to five years after the "completion" of any misconduct — with an additional three years in certain circumstances.
Perhaps more important today, enforcement authorities outside the United States continue to increase their enforcement of anticorruption laws against multinational companies and their employees and agents, either under foreign bribery laws enacted pursuant to multilateral conventions, or under domestic corruption laws. Thus, in the current operating environment for many companies, enforcement risk for potential corruption can emerge from many possible sources.By: Collman GriffinJune 6, 2018https://www.law360.com/articles/1050086/fcpa-enforcement-activity-in-early-2018-part-2